You don't expect to find bison in the UK, but if you visit the Bush Farm Bison Centre in Wiltshire you will find plenty.
There is a lovely woodland walk which takes you past a variety of animals which include goats, a very friendly donkey, elk, chipmunks, guanaco and rhea. There is a viewing platform where you can stand (or sit) and watch the bison, and plenty of spots for a picnic.
Just behind the shop, from which you can buy bison and elk meat, you will find a couple of pigs and some prairie dogs which provide endless entertainment.
If you feel that you can't bear to leave, you could always pitch your tent on their campsite and stay a few days!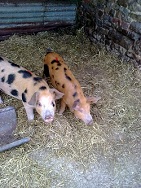 For more ideas of places to visit, or to book a tour guide. visit our website www.iabtours.com